This article may contain affiliate links. I may receive commissions for purchases made through the links in this article.
Welcome visitors to your outdoor space with these DIY garden art ideas for inspiration!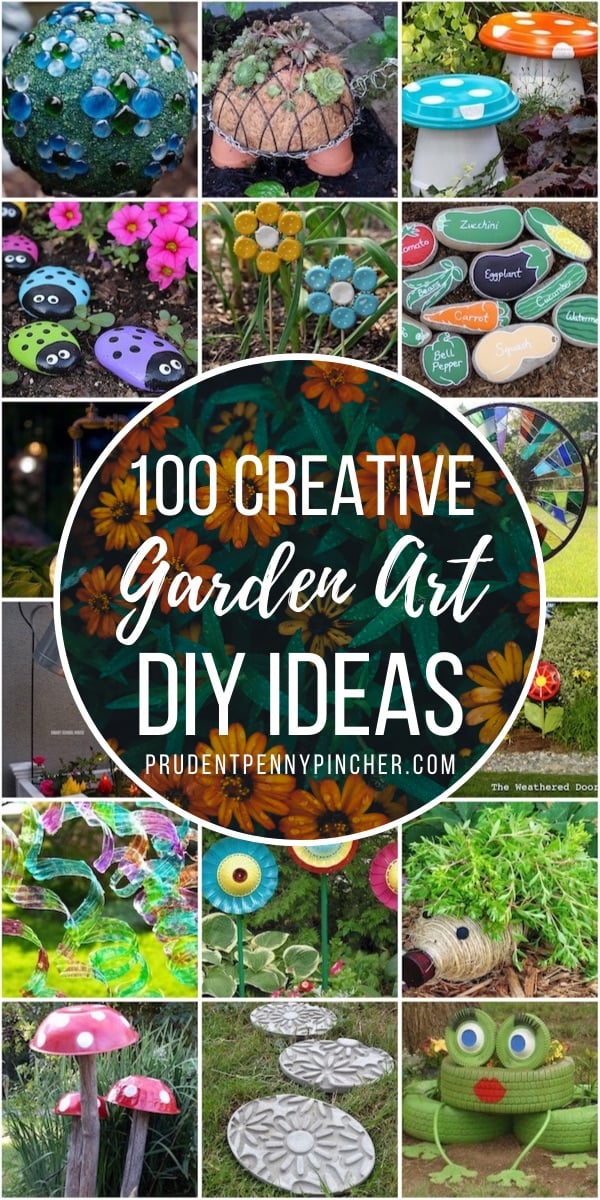 Whether you're looking for art ideas for your flower beds, your garden path, or just want to add a little whimsy to your landscaping, there are plenty of DIY gardening projects that will be the focal point of your space. of garden. These garden art ideas will add a pop of color to your front and back yard without breaking the budget. Most of these DIYs garden decorations are made from repurposed materials, everyday items and dollar store products. You can find lots of needed supplies at thrift stores, Habitat for Humanity, garage sales, and more!
DIY garden markers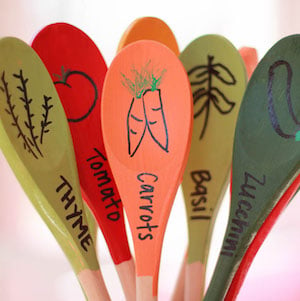 Playground Park Bench Garden Markers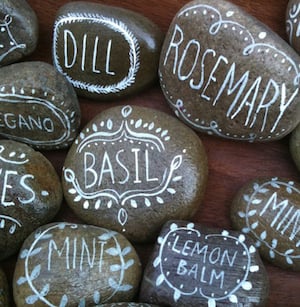 August Wren Painted Rock Markers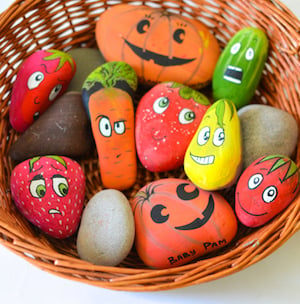 Adventure in a Box Rocks Garden Markers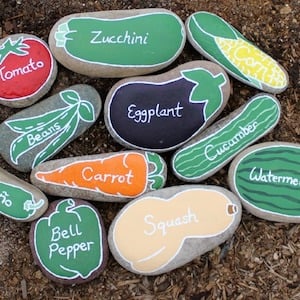 River Rock Markers from the West Valley Moms Blog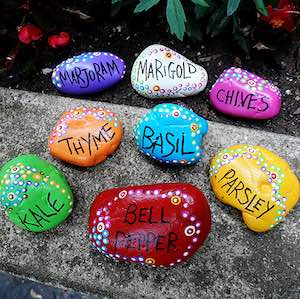 Painted Rock Markers from Crafts by Amanda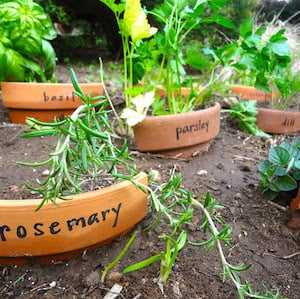 Broken terracotta pot markers from Hardly Housewives
Terracotta garden art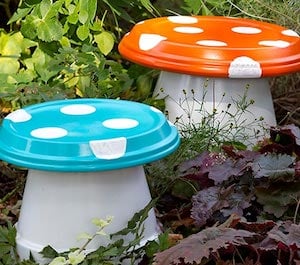 DIY Mushrooms from Birds and Flowers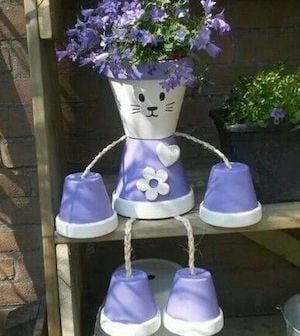 Cute Kitty Terracotta Flowerpot (source unknown)
4 small $1 terracotta pots, rope, 2 medium terracotta pots, acrylic paint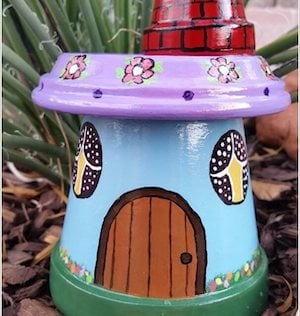 Painted terracotta fairy house (source unknown)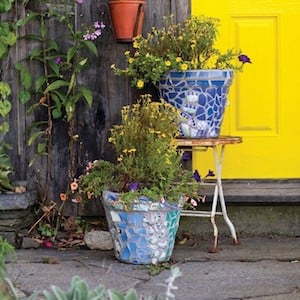 Mosaic Flower Pots from Cut Out and Keep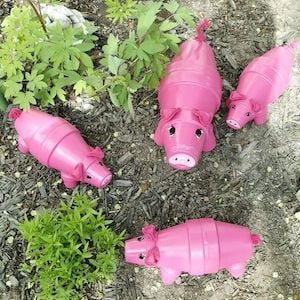 Cute pig terracotta pots (source unknown)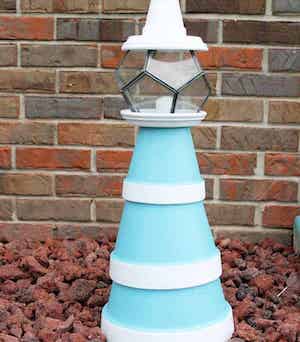 DIY Clay Pot Lighthouse from Crafts by Amanda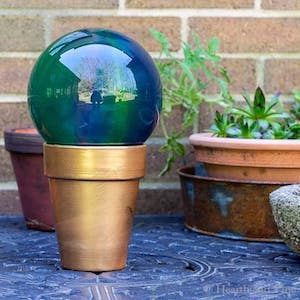 DIY Garden Ball from Hearth and Vine
Buy Garden Statues and Solar Lights on Amazon

DIY planters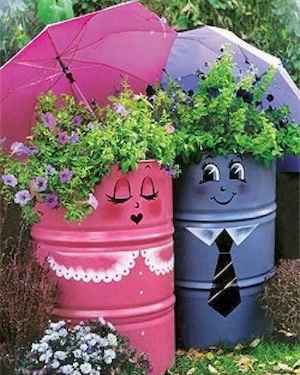 Painted steel drum planter (source unknown)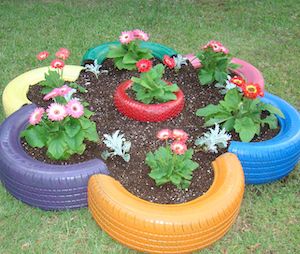 Colored Tire Planter (source unknown)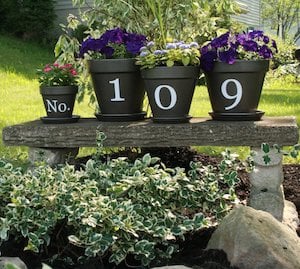 House numbers on flower pots from DIY Showoff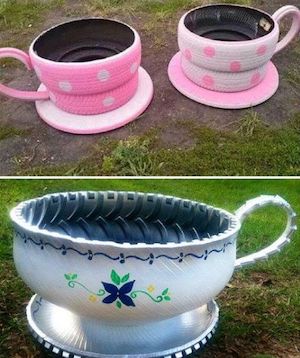 DIY Cozy Home Teacup Tire Planters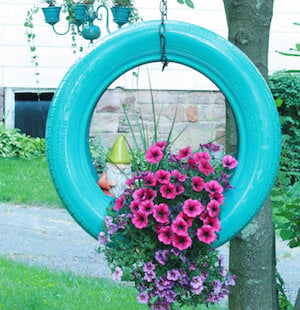 DIY Showoff Oscillating Tire Planter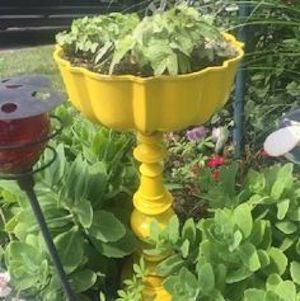 Bundt Pan Planter by Teresa Royce (via Pinterest)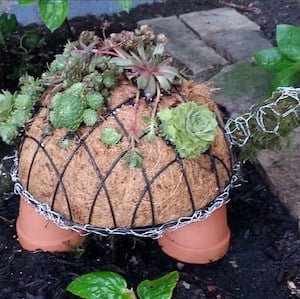 Dollar Store Succulents Turtle Shade Gardening Topiary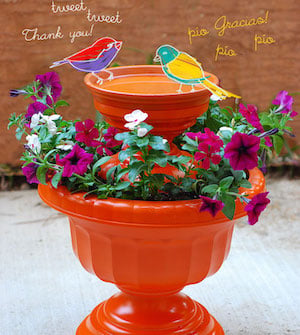 Cheap plastic bird feeders from Mami Talks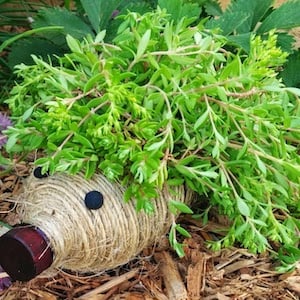 Hedgehog Bottle Planter from Susie Qute
Other Garden Art Ideas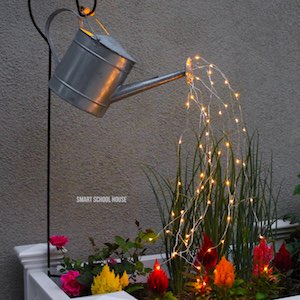 Smart School House Watering Can with Lights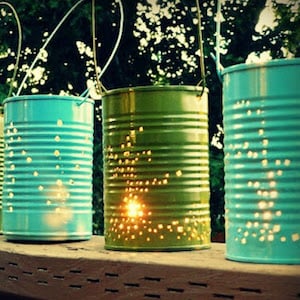 Canned Lanterns from Grow Creative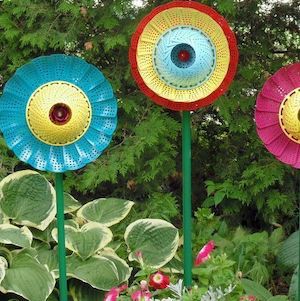 Folding Flower Colander from Thrifty Revel Vintage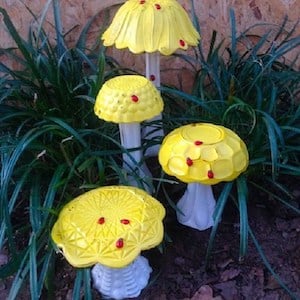 Mushroom Art (source unknown)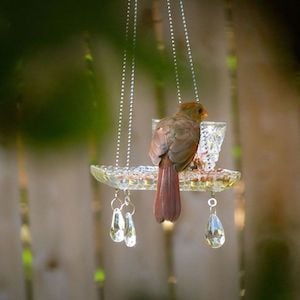 Hometalk Teacup Bird Feeder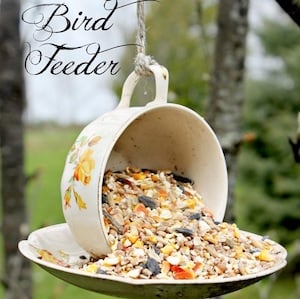 Bushel and a Peck Teacup Bird Feeder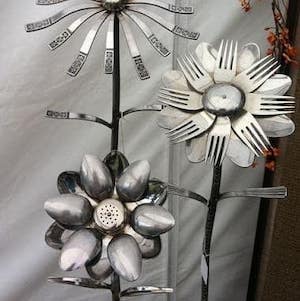 Flower Spoon Garden Art (source unknown)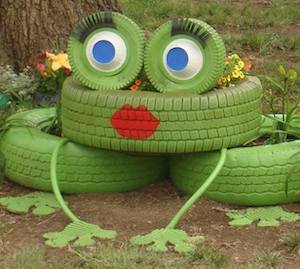 Frogs made from recycled tires of two women and a hoe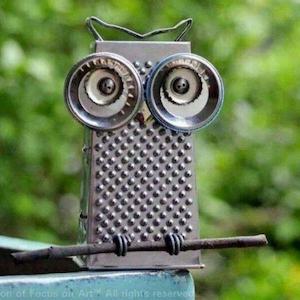 Owl Garden Decor Cheese Grater (source unknown)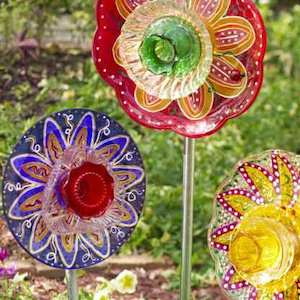 Bird and Flower Glass Garden Flowers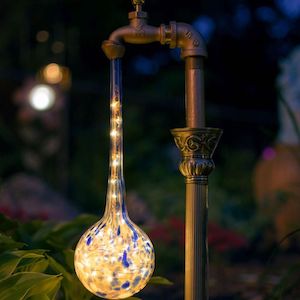 DIY Solar Water Drop Lights from The Navage Patch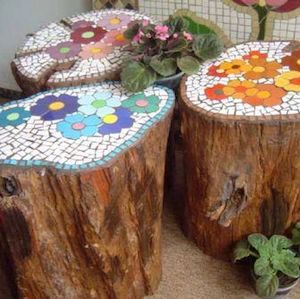 Tree stump mosaic (source unknown)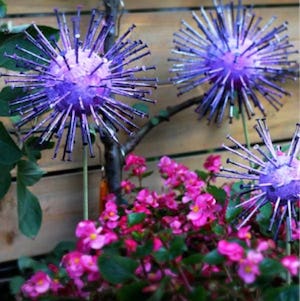 Allium Garden Art from Empress of Dirt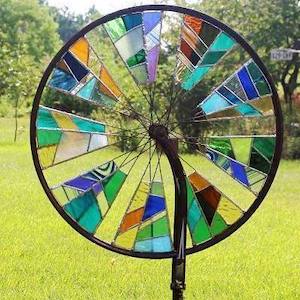 Stained Glass Garden Spinner from Flea Market Gardening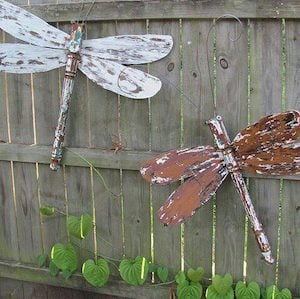 Table Leg Dragonflies from Lucy Designs Online
Hubcap Flowers Art (source unknown)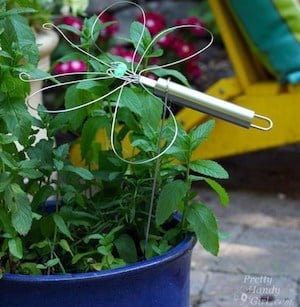 Pretty Handy Girl Dragonfly Wire Whip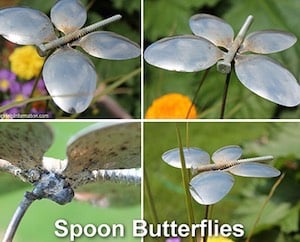 Spoon Butterflys from Weed it and Reap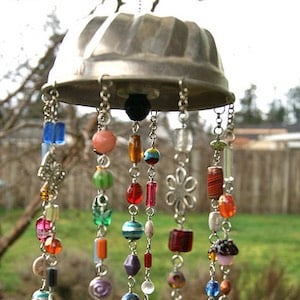 DIY Wind Chimes from a Funky Mobile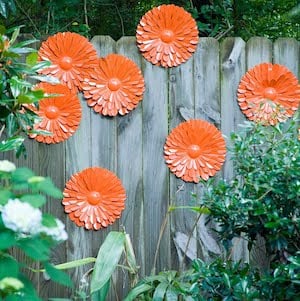 Closing Flowers by Christ H Olsen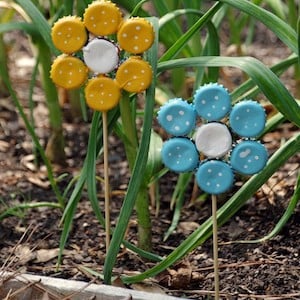 Bottle Cap Flowers Art from Suburbia Unwrapped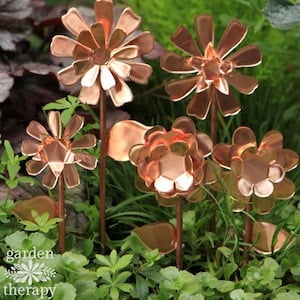 Garden Therapy Copper Flowers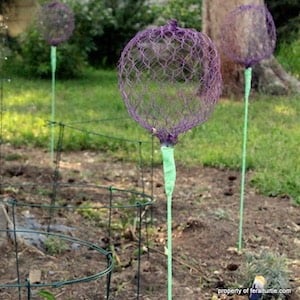 Giant Allium Chicken Wire Wild Turtle Flowers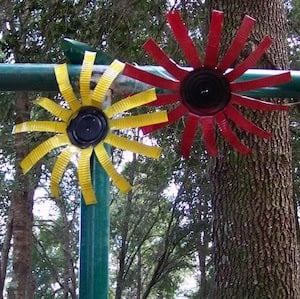 Tin Can Flowers from Goofing Off Couture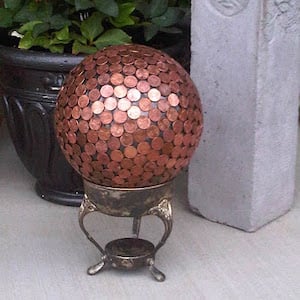 Penny Gazing Ball from House of Hawthornes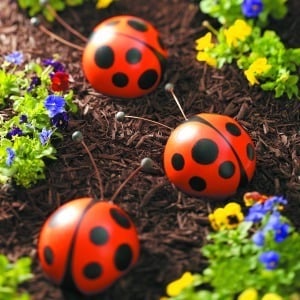 Birds and Blooms Lady Bug Bowling Bowls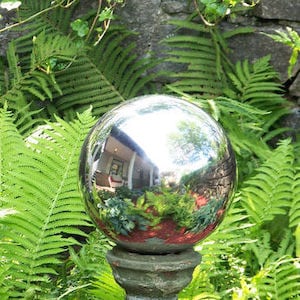 Garden Glove Mirror Observation Ball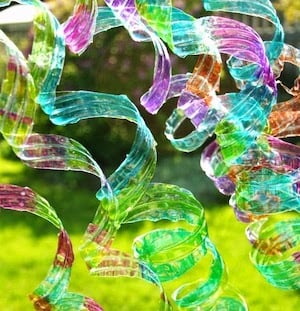 Creative Green Living Recycled Water Bottle Art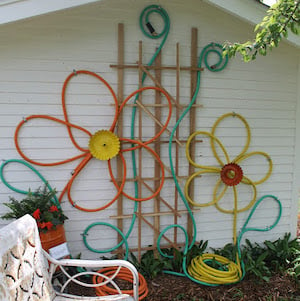 Flower Hose Design from Hammers and High Heels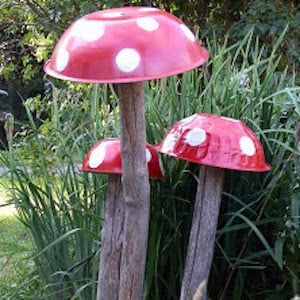 Garden art mushrooms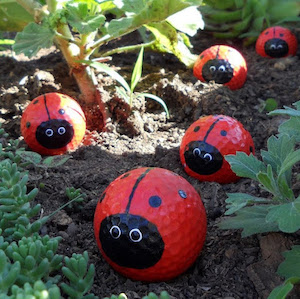 Art Drops Ladybug Golf Balls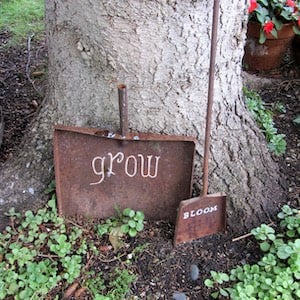 Rusty shovel garden sign organized clutter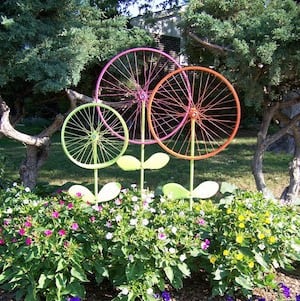 Bicycle wheel flowers from The Hanky ​​Dress Lady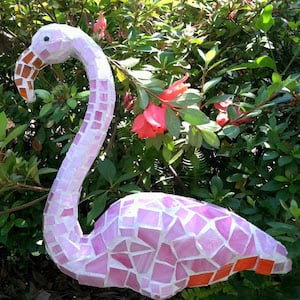 Dollar Store Mosaic Flamingo from Lucy Designs Online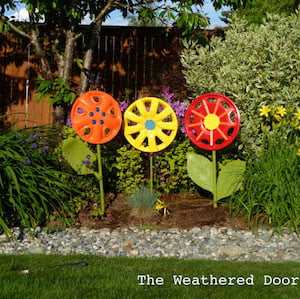 Hubcap Flower Art from The Weathered Door
Concrete, pebble and bead garden art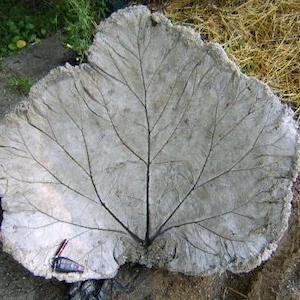 Garden Stew Easy Leaf Concrete Birdbath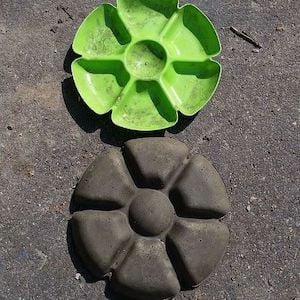 Concrete Flowers from The Garden Frog Boutique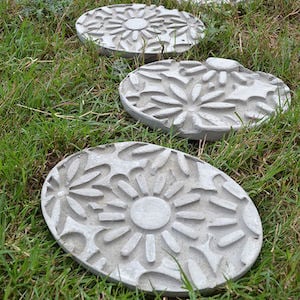 Flower stepping stones from Dream a Little Bigger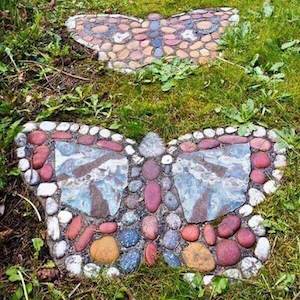 Pebble Pathway Art (source unknown)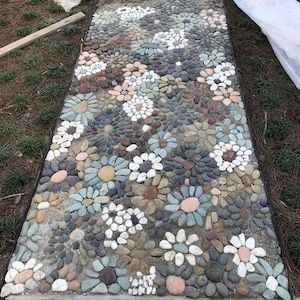 Pebble Flower Art Garden Path (source unknown)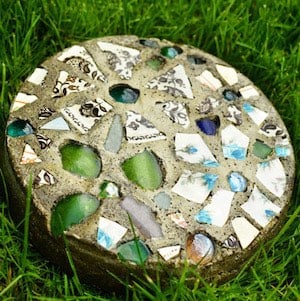 Cake Pan Stepping Stones from Intimate Weddings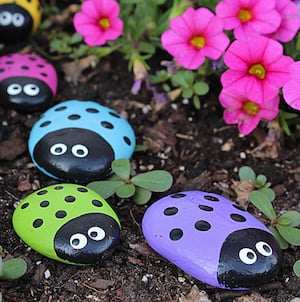 Ladybug Rocks from Crafts by Amanda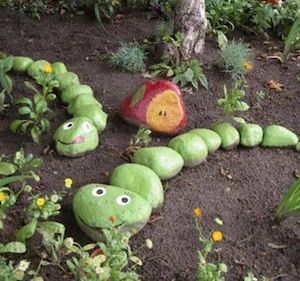 Caterpillar Rocks Art (source unknown)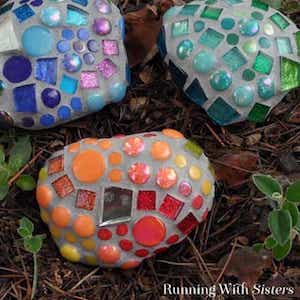 Mosaic Garden Rocks from Running with Sisters (via Kenarry)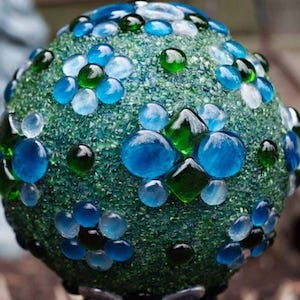 Stunning garden ball from Empress of Dirt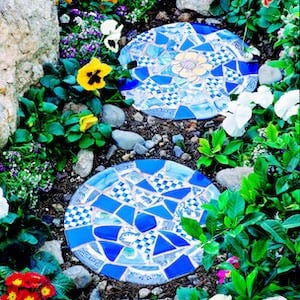 Mosaic Stepping Stones from Midwest Living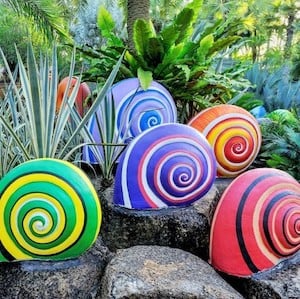 Snail Rocks (source unknown)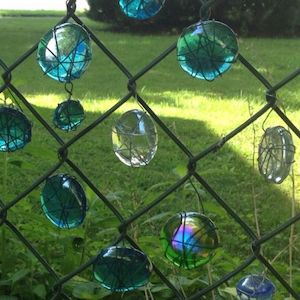 Glass bead fence (source unknown)
All you need are glass beads and floral wire from Dollar Tree
Similar item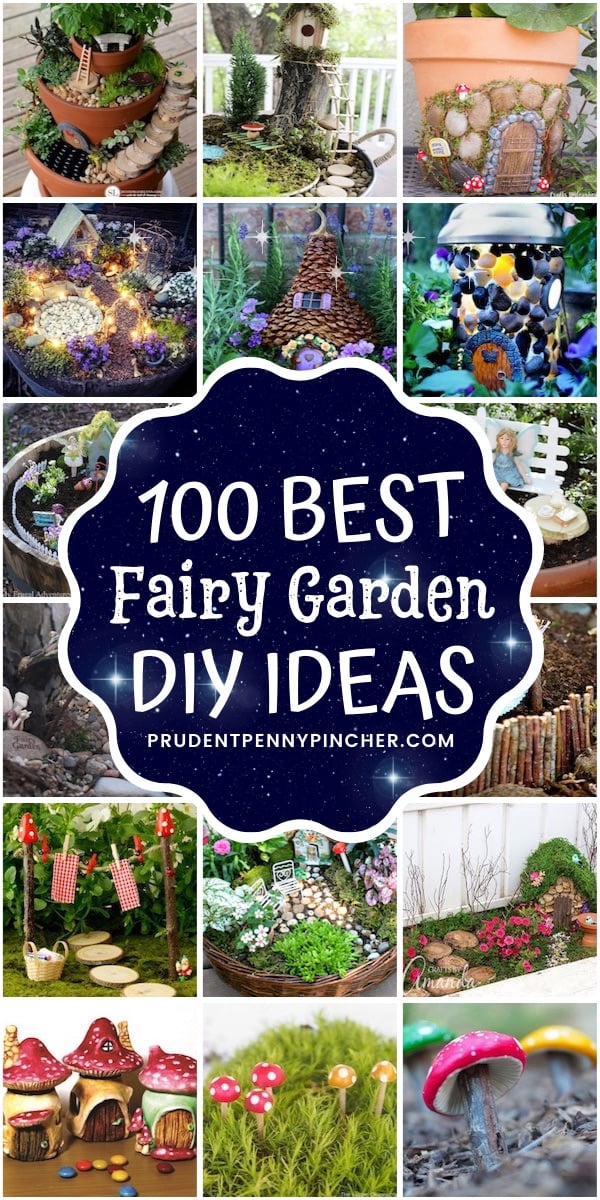 100 Best DIY Fairy Garden Ideas
Looking for more gardening ideas? Be sure to check out all of my garden articles, which include DIY gardening projects, garden decorating ideas, landscaping, front and backyard ideas, and so much more!